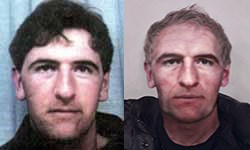 Police in Fife are appealing for assistance from the public as part of ongoing inquiries into a long-term missing person.
On Wednesday, 27 January, 1993, Peter McGuire, who was 21 at the time, went missing from his home in High Valleyfield. He was seen later that day leaving Carnegie Swimming pool.
An extensive investigation was launched to trace Peter, resulting in his car being recovered near to the Forth Road Bridge, but there were no further sightings or information regarding his whereabouts.
In November 2016, information was received that a man using Peter's name and date of birth had been living rough in the Hastings area of England and this information was progressed by officers from Police Scotland's Fife Division.
As a result, it was established this man had quickly moved on, possibly to the West London area.
Peter's family have been informed of these updates and police are continuing to carry out investigative work to try and identify the man with Peter's name and date of birth.
Detective Inspector Kelly McEwan from Dunfermline CID said: "At this time, we do not know if the man down south is indeed the Peter McGuire who went missing from High Valleyfield almost 25 years ago, however he provided information which suggested knowledge of Peter's circumstances.
"As such we are conducting a thorough investigation and liaising with our colleagues at the relevant police forces to try and identify and speak to this person.
"Members of the public who live in any of the locations currently involved in this inquiry and who believe they have useful information are asked to contact police immediately, particularly those living and working within the homeless networks.
"We would also ask that if Peter McGuire becomes aware of this appeal then he comes forward to speak with us. I would like to stress our priority is confirming if Peter is safe and well, and we will not disclose his whereabouts to any other person against his wishes."
In a statement issued through Police Scotland, Peter's family said: "Peter you are a big part of our lives that is missing and the pain of that has never gone away. We all love you so much and worry about you every day. Please Peter find it in yourself to get in touch.
"It would be a blessing to hear from you. We would love for you to be a part of our lives again in any way you choose, your terms, your pace, one step at a time. We are here for you, our doors will always be open for you. God bless you Peter and know that you are loved by us all so very much."
Those with information can contact Dunfermline Police Station via 101.
Police Scotland works in close partnership with the Missing People Charity - the only charity in the UK which specialises in and is dedicated to bringing missing children and adults back together with their families.
They can be contacted via telephone on free phone 116 000 or by visiting the Missing People Website.
Call 101 for non-emergencies and general enquiries, in an emergency call 999. If you have information about a crime you can also contact the charity Crimestoppers anonymously on 0800 555 111.
---