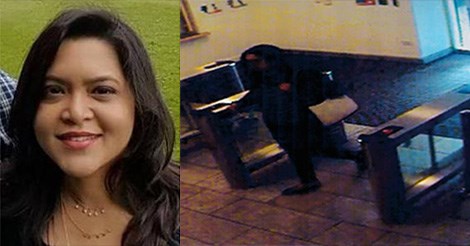 Officers who launched a major search for missing Aberdeen woman Nusrat Jahan are continuing to appeal for information one month on from her disappearance.
The 34-year-old was reported missing to Police during the evening of Thursday July 27, 2017, by a friend who was concerned for her wellbeing after Nusrat told them she was heading to Aberdeen Beach.
A major search operation involving assistance from specialist support units including the Police Scotland helicopter, dog unit, dive unit and mountain rescue was subsequently launched, covering an area stretching from Bridge of Don to Aberdeen Beach down to the cliffs at Cove.

Despite this and numerous public appeals, there has been no trace of Nusrat since she was last seen on CCTV leaving her work at Marischal College at around 4pm on the day she was reported missing.
One month on, officers are once again appealing for information to establish whether a woman who was seen climbing on the wooden groynes at Aberdeen Beach earlier that evening was Nusrat.
In addition they have also released a photograph of the jacket she was believed to be wearing when she went missing incase it can help jog the memory of someone who potentially saw her.
Detective Inspector Stewart Drummond of CID, which has oversight of long-term missing person enquiries, said: "It has been one month since Nusrat was reported missing to Police and we have not seen or heard from her since. Our enquiries were scaled back once every possible place she may have gone that night had been thoroughly searched, however we will continue to react to any new information we receive until we establish for sure what happened to her.
"To date we have not been able to confirm whether a woman who was seen climbing on wooden groynes in dark clothing at around 6.15pm across from the Inversnecky café was Nusrat or not. Was this you? Or do you remember seeing a woman doing this in the area that night?
"We are also releasing a photograph of the jacket Nusrat was believed to be wearing when she left her home on July 27 incase it can help jog someone's memory. Did you see anyone matching Nusrat's appearance wearing a similar jacket that night? Have you come across an abandoned jacket like this since?
"At the time we also appealed to fans who had been at Pitoddrie for the Aberdeen FC v Apollon Limassol game to get in touch as they would have been leaving the stadium around the time Nusrat said she was heading to Aberdeen Beach. Our appeal still stands and I would ask anyone with information to contact 101.
"Enquiries of this nature are never easy for families of missing people and our thoughts continue to be with Nusrat's family at this difficult time. We continue to keep in contact with them and will keep them informed of any developments." Nusrat is described as being around 5' 3" and of slim build, with dark hair.
Police Scotland works in close partnership with the Missing People Charity - the only charity in the UK which specialises in and is dedicated to bringing missing children and adults back together with their families.
They can be contacted via telephone on free phone 116 000 or by visiting the Missing People website.
Call 101 for non-emergencies and general enquiries, in an emergency call 999. If you have information about a crime you can also contact Crimestoppers anonymously on 0800 555 111.
---