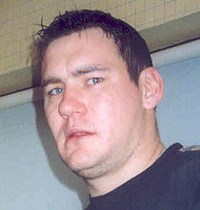 Officers are appealing for any information that could help trace the whereabouts of Arbroath man Ian Mowatt.
Ian (36) was reported missing from his home in North Grimsby, Arbroath, on Sunday, August 12, 2007, and despite investigations and appeals in the time since, he remains a missing person.
Ian is 6ft 4ins in height and of heavy build, with brown hair and blue eyes. He also has several tattoos including one of a panther on his right arm and a tribal design on his back.
When last seen, Ian was wearing a light grey hooded top, as well as a green and white-hooped Celtic football shirt, combat trousers and white trainers.
Police Scotland works in close partnership with the Missing People Charity - the only charity in the UK which specialises in and is dedicated to bringing missing children and adults back together with their families.
They can be contacted via telephone on free phone 116 000 or by visiting the Missing People website.
Call 101 for non-emergencies and general enquiries, in an emergency call 999. If you have information about a crime you can also contact Crimestoppers anonymously on 0800 555 111.
---