Greater Glasgow Division is made up of the command areas above.
Priorities
The priorities for your area are decided by data from our strategic assessment which details threats and risks, and also from feedback from local authorities, partners, and residents in the Your Police survey.
You can read more information about how these priorities are decided and how officers work with local councils and partners to improve your community and address these issues in the following Local Policing Plans.
East Renfrewshire Local Police Plan
East Dunbartonshire Local Police Plan
Glasgow City Local Policing Plan
You can also keep up to date with what's happening in your local area through the divisional Facebook and Twitter channels.
Divisional Commander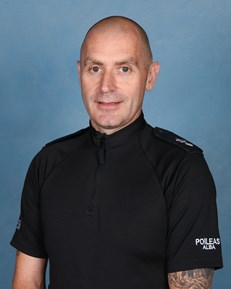 The Divisional Commander is Chief Superintendent Mark Sutherland who is responsible for all policing in Greater Glasgow Division and its command areas.
Local Initiatives
Community Justice Glasgow
Community Justice Glasgow aim to help people in organisations and communities to understand what Community Justice is all about. Read their Community Justice Glasgow Annual Report 2018-2019 and take part in the survey on the last page.
The Herbert Protocol
Greater Glasgow Division records approximately 9900 missing person incidents and 2500 missing person reports (NMPA) per annum. Approximately 2% of reports account for persons reported as missing with dementia or similar conditions, which result in an immediate High Risk investigation.
The Herbert Protocol is a nationally recognised scheme supported and endorsed by Police Scotland. It is not intended to replace existing safeguarding and security measures, instead provide additional support and reassurance.
It is an information gathering tool to assist the police to find a person living with dementia, or similar, who has been reported missing. It consists of a form that contains vital information about the person at risk that can be passed to the police at the initial point the person is reported missing. The existence of this information will save police critical time in establishing the history of the missing person and their potential location.
Carers should be directed to this page where they can download the Herbert Protocol Form. Once complete, the form is retained by carers (not police), and a copy should also be placed within the home or care setting in a prominent position so as easily available to police when required.
Please pass on information on the Herbert Protocol to anyone it may be of use to. Additional information, can also be obtained from the Greater Glasgow missing Person unit who will follow up on any such missing person reports to offer additional support, advice and an information pack if required.
Contact Us
Call us on 101 if you need advice or to report a crime, or 999 if it is an emergency
---
Read about reporting and FAQ to help you understand how we are policing the restrictions.