Argyll and West Dunbartonshire
---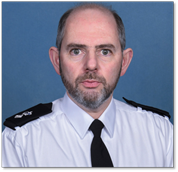 Local Police Commander: Chief Superintendent John Paterson
Chief Superintendent John Paterson is the Local Police Commander for Argyll & West Dunbartonshire and has responsibility for policing across the division.    
To support the delivery of local policing, the area is divided geographically into three Command Areas:
Each area has a dedicated Local Area Commander, a Chief Inspector who is responsible for the day-to-day policing in that area.
All Local Area Commanders report into the Divisional Senior Management Team which is led by the Local Police Commander. An Assistant Chief Constable is appointed to oversee all local policing across the West of Scotland.
Each division is made up of local wards. Argyll & West Dunbartonshire consists of 17 wards.
Priorities
The Policing Priorities for Argyll & West Dunbartonshire are informed through consultation and are set out in the Local Police Plan.
The local police priorities for Argyll & West Dunbartonshire Division are: 
Serious organised crime
Acquisitive crime
Road safety and road crime
Violent crime
Public protection
The local police plans are available here
West Dunbartonshire Local Policing Plan 2020-2023 (PDF)
Argyll & Bute Local Policing Plan 2020-2023 (PDF)
Each area is served by a number of policing teams, including Response Officers, Community Officers and officers from the Criminal Investigation Department.  Along with others, these teams deliver services across Argyll & West Dunbartonshire, drawing on national resources as required.
Officers from the Community Policing Team are dedicated to working collaboratively with local communities and partners to find long term solutions to key issues.
Contact Us
There are several ways you can contact your Community Policing Team or make a report to the police.
If your report is not an emergency call 101 or, if your enquiry is an emergency, always dial 999. If you have dialled 101 or 999 by mistake or if you no longer require assistance, please stay on the line and let us know rather than ending the call.
If you wish to report a crime online, you can do so here.
If it is not an emergency and you are not reporting a crime, you can visit or email your Community Policing Team by clicking on the relevant Command Areas below:
Alternatively, you can contact Scottish CrimeStoppers who are an independent charity that give people the power to speak up and stop crime anonymously.  You can call them on 0800 555 111 or email: crimestoppersscotland-uk.org
Or if you have a general enquiry or wish to provide feedback, you can complete the Contact Us form
Partnerships
Argyll & West Dunbartonshire Division works in partnership with Argyll & Bute Council, West Dunbartonshire Council, other public services and the community and voluntary sector in order to improve outcomes for communities.
In all situations where a crime has been committed, you should contact Police Scotland however, there are many other services available to provide support where there is no criminality.
The most frequently used are:
Argyll and West Dunbartonshire Police Division
---