Argyll and West Dunbartonshire
Argyll and West Dunbartonshire division is the area covered by Argyll and Bute Council and West Dunbartonshire Council. The division is made up of the three command areas above.
Priorities
The priorities for your area are decided by data from our strategic assessment which details threats and risks, and also from feedback from local authorities, partners, and residents in the Your Police survey.
Serious organised crime
Crimes of theft and dishonesty
Road safety and road crime
Violent crime
Public protection.
You can read more information about how these priorities are decided and how officers work with local councils and partners to improve your community and address these issues, in the  Argyll & Bute Local Policing Plan (Argyll & Bute Easy Read PDF version) and West Dunbartonshire Local Policing Plan (West Dunbartonshire Easy Read PDF version). You can also keep up to date with what's happening in your area through the divisional Facebook and Twitter channels.
Divisional Commander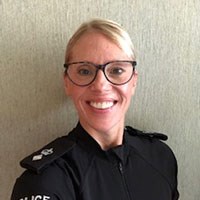 The Divisional Commander is Chief Superintendent Lynn Ratcliff, who is responsible for all policing in Argyll & West Dunbartonshire division and its three area commands.
Local Initiatives
Dementia Safeguarding Scheme
Argyll and West Dunbartonshire Police Division have launched the Dementia Safeguarding Scheme which has a number of tools that will benefit those living with dementia, their families and carers.
Pledge to Stop Scams
We are continuing to see an increase in the number of people falling victim to scammers throughout West Dunbartonshire and Argyll and Bute. To help tackle this, we have created a local initiative to ask everyone to make a "Pledge to Stop Scams". As part of this initiative we would like to promote some available resources to help keep yourself safe from becoming and victim of fraud, however would ask you to also pass this onto anyone you know who may be more vulnerable, particularly if they don't have access to online resources.
Dementia Safeguarding Tag
The Dementia Safeguarding Tag is available for anyone living with dementia in Argyll and Bute and West Dunbartonshire.
The Dementia Safeguarding Tag works with Near Field Communication (NFC) technology and is simply a small keyring that can be carried on your keyring, mobile phone, clothing, handbag or walking aid and can help if you get lost or confused when out in your community.
Members of the public can tap your Dementia Safeguarding Tag against their phone to access your emergency contact and reunite you with them to keep you safe
To find out more, watch our the Dementia Safeguarding Tag video.
You can find out about how to programme the Dementia Safeguarding Tag, you can watch our  Programming the Dementia Safeguarding Tag video.
Please contact your local Alzheimer Scotland Dementia Advisor to obtain a Dementia Safeguarding Tag for yourself or your family.
The Herbert Protocol
Following its introduction in Scotland, the Hebert Protocol has been used many times to trace missing people with dementia and return them home. Please view our Herbert Protocol form.
Purple Alert
Purple Alert is a free mobile app which sends an alert to the community if someone with dementia is missing in their area. You can find out more information on the Alzheimer Scotland website. 
Contact Us
Call us on 101 if you need advice or to report a crime, or 999 if it is an emergency