1920 - 2020: A Century in Review Part 1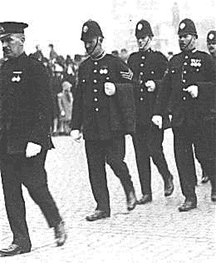 As we welcome in a new year and decade, it's only natural to reminisce about the past and look back in time to see what's changed and reflect on memories from yesteryear. In this two-part article, with the help of our friends at the Glasgow Police Museum, we'll be doing just that, delving into the last 10 decades of policing in Scotland, examining the cases, characters and technological developments of the last century - from the outstanding detective work to catch serial killers, to feats of incredible bravery.
1920s
The roaring twenties. The golden age of jazz, prohibition, and a worldwide economic boom seen in many countries following the end of the First World War. Although Police Scotland would not exist as a single entity for another 90 years or so, regions of Scotland already had their own independent constabularies, such as the City of Glasgow Police, which had already been active for 120 years making it the UK's oldest official police force. Of the 748 Glasgow policemen who enlisted for the Great War, 173 were confirmed killed or listed as missing, and on November 11th 1921, a bronze war memorial tablet bearing their names was unveiled at Glasgow Cathedral. Representing the force, a veteran of the conflict, Sergeant McAuley from the city's Southern Division, laid a wreath that day, and there could scarcely have been anyone more appropriate, as John McAuley's heroism during the war were the stuff of myth, so much so that his exploits became the subject of a poem written by Ayrshire poet Matthew Anderson.
John McAuley, who'd been a constable with the City of Glasgow Police since 1911, had won a Distinguished Conduct Medal for his actions during the Battle of Ypres in 1916, where faced with dogged German resistance and under heavy sniper fire, he advanced and single handedly cleared several enemy positions, taking charge of his platoon after their commanding officer had been killed. A year later, he fought at the Battle of Cambrai, an engagement which claimed the lives of some 89,000 men. Afterwards, McAuley's incredible feats of bravery during the fight prompted his commanding officer to send this report to his superiors.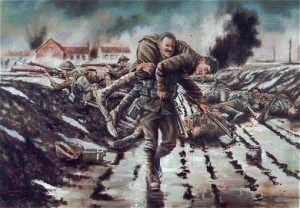 'He took command of the company after all his officers had been hit, cheered and encouraged them, brought back Arthur (Kinnaird) and many wounded men from positions of danger, beat back a counter attack, killed several Germans and was altogether splendid. I am recommending him for a V.C., but they are hard to get.'
In January the next year, Sergeant McAuley was brought back from France, and in a ceremony held at Buckingham Palace, King George V presented him with the Victoria Cross. He was one of only seven British police officers serving in the conflict to receive the award.
By the 1920s the Great War had ended but there was still conflict and unrest, with General Strike riots for Scottish police officers to deal with in April and May of 1926, and with the Irish War of Independence raging, tensions were high in Glasgow. In 1921, a Police van carrying an IRA officer to Duke Street Prison came under fire from a large group of armed men in Cathedral Square, killing Inspector Robert Johnston and wounding Detective Sergeant George Stirton. The attempt to liberate the prisoner ultimately failed, and thirteen men were later arrested and tried.
1930s
The 1930s were also a tumultuous period, which in 1931 saw fifty-one men arrested for their part in riots in Glasgow, sparked by cuts in government benefits. It was also a period of technological marvels around the world, evidenced in the invention of things such as frozen food, vinyl records, radar, scotch tape and the bass guitar. Policing in Scotland also saw its share of scientific development with the appointment in 1931 of Detective Sergeant Bertie Hammond, an expert in fingerprinting which was in its infancy at the time. DS Hammond established a new Fingerprint and Photographic Department, and in a 1935 joint investigation carried out by City of Glasgow Police and Dumfriesshire Constabulary, the new fingerprinting techniques would be used to identify two dismembered bodies found near Moffat as the wife and maid of English doctor Buck Ruxton, who was later tried and executed for the murders.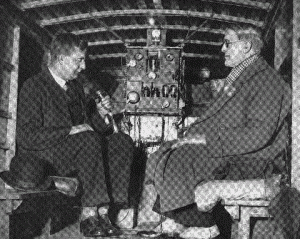 Another major technological advance in this period was the introduction of the first radio patrol car, which was tested by Glasgow's Chief Constable Percy J Sillitoe in 1932 and put into widespread use by officers four years later. Sillitoe was also the man behind the invention of the black and white chequered cap bands, which would become known as 'the Sillitoe Tartan'. With the outbreak of the Second World War in 1939 and the Glasgow shipyards a prime target for German bombers, City of Glasgow Police established the Air Raid Precautions Service, and also recruited former police personnel to form the First War Reserve, The Police War Reserve, the Women's Auxiliary Police Corps and the Special Constabulary, which was comprised of 1900 people recruited from the working population who reported for duty two nights a week for patrol duties.
1940s
As in the Great War, many Scottish police officers signed up to fight in WW2. By the end of the war in 1945, City of Glasgow officers alone serving in the conflict numbered 339, but perhaps the most famous Caledonian copper to have become embroiled in the war was the extraordinary Wee Willie Merrilees, AKA the Pocket Sized Detective.
Born into poverty in Leith in 1898, at the tender age of twelve he started shifts at a ropeworks, where he promptly lost four fingers of his left hand to a rope winding machine. His ambition was always to become a police officer, but fully grown, standing a mere five foot six, he was four inches (and four fingers) short of police regulations, and deemed unsuitable to join the Edinburgh City Police. It was only after he'd saved the lives of twenty-one colleagues who'd fallen into the water at the shipyard where he was working as a driller that Sir Thomas Hutchison, the then Lord Provost of Edinburgh, asked if there was anything he could do to award the pint-sized, digit-shy hero. Wee Willie told him he'd always wanted to join the police, to which the Lord Provost said he'd see what he could do. The story goes that walking home from work that day, Willie saw police officers involved in a foot chase with a suspect who dived into Leith Water to evade them. Legend has it that Merrilees jumped right in after the escaping rogue, knocked him out with a single punch, then dragged him back to shore where he was promptly arrested. A week later, Willie was a constable of the Edinburgh City Police, where he would carve out a storied career.
He gained a reputation for being able to crack the toughest cases and going to extreme lengths to apprehend suspects, often using his skill as an undercover officer and master of disguise. One account tells of him utilising his small stature, dressing up as a baby and hiding in a pram in order to catch a flasher who was terrorising nannies in an Edinburgh park. The outlandish gambit apparently paid off, as the suspect was arrested after Merrilees sprang from his pram and pursued the flasher across the green, wearing only a nappy. He went undercover while working on the Kosmo Club brothel case, posing as a streetwalker and recruiting as an informer a girl who had been forced into prostitution by the club's owner. As a result of his work, both the Kosmo and Maxine's Dance Clubs were closed down and the owner plus two others were imprisoned.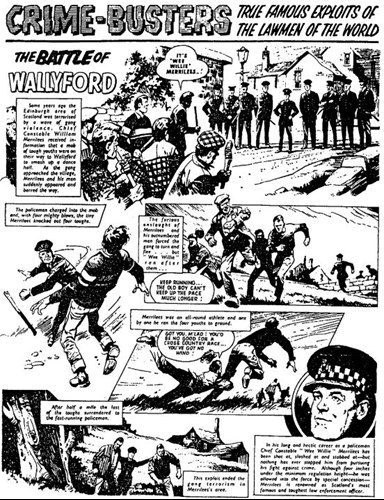 Merrilees's most famous case however, came about during 1940, which had already been a busy year for him. He'd been promoted twice, first in March when he became second in command of Edinburgh CID, then again in August when he gained the rank of Detective Superintendent and put in overall charge of the CID, Licensing Department, Aliens, and Dangerous Drugs and Firearms Departments. In September, acting on a tip off that there was a German spy on board a train bound for Edinburgh, Merrilees went undercover again, dressing as a railway porter, and apprehended the Nazi infiltrator at Waverly Station.Eventually becoming Chief Constable of Lothians and Peebles constabulary, Wee Willie's exploits throughout his career gained him fame both at home and abroad. Regarded as a celebrity in the USA, he counted Walt Disney, Roy Rogers and Dale Evans among his acquaintances. He appeared on This is Your Life, was awarded the King's Police Medal for distinguished service in 1944, was given an OBE in 1959, and appeared in the magazine Valiant, where the true life episode of how he single-handedly broke up gang violence in the village of Wallyford was depicted in a comic strip. You can read more about this remarkable man and his adventures here.
1950s
The 1950s saw the birth of rock n roll, the invention of the solar cell, the launching of Sputnik 1 and the first passenger jets taking to the skies. Policing in Scotland also saw a few changes taking place, with the long-used helmet being replaced with the now standard peaked or "diced" cap, the formation of the mobile Flying Squad, which resulted in great success and many arrests, and the establishment of the first Police Information Room in the Central Police Office, where phones, teleprinters, and radio equipment were installed to boost communication capability throughout the force.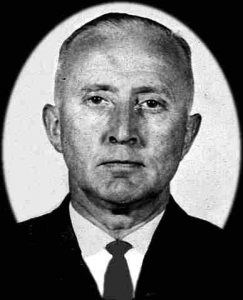 The 50s also saw some memorable cases and equally memorable characters, such as the Partick based housebreaker dubbed The Nighthawk, and the man who would become Scotland's most notorious serial killer. In 1958, the Lanarkshire Constabulary requested assistance with a string of unsolved murders that had taken place over the past two years, and one of the men brought in was Detective Inspector Thomas Goodall of Glasgow CID. DI Goodall, a native of Fife and an officer of twenty-six years' service at the time, was known for having a razor sharp mind and the ability to use the most obscure clues to solve cases, and with his help, enquiries led to the capture and conviction of Peter Manuel, who was found guilty of murdering eight people and was executed by hanging in Barlinnie Prison.
Next time, we'll be dealing with the 60s through to the present day. Thanks again to Glasgow Police Museum for their help in compiling this article, and for the use of their images.
---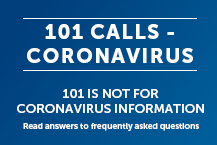 101 calls are not for Coronavirus information, read our FAQs to help you understand how we are policing the new restrictions.