Signage installed raising awareness about drone use near Aberdeen International Airport
New signage has been installed close to Aberdeen International Airport raising awareness about restrictions governing the use of drones in the area.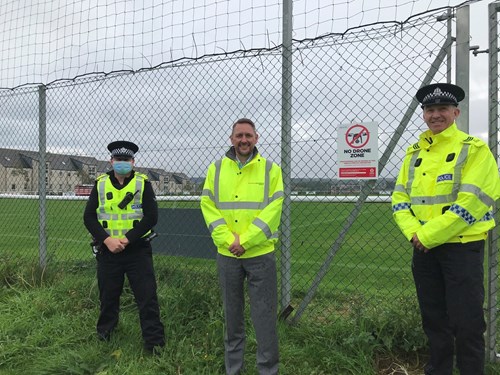 There has been a significant growth in the use of drones - or unmanned aerial systems in recent years as the technology continues to develop, with many people now using them for professional and recreational activity.
However, it is important that people know the regulations which govern their use when putting their drone in the air.
A number of airspace restrictions exist within the UK and these apply equally to both manned and unmanned aircraft.
Flights of unmanned aircraft around sites which are designated as 'protected aerodromes' including Aberdeen International Airport are restricted - making it illegal to fly a drone of any size within the Flight Restriction Zone (FRZ) without appropriate permission.
Permission can only be obtained by contacting the relevant Air Traffic Control covering the restricted zone.
Any user will be asked to provide a police incident number, which can be obtained by calling 101 - though importantly police cannot grant permission to fly in a restricted zone as that can only come from the appropriate Air Traffic Control.
Sergeant Allan Masson of the Bucksburn and Danestone Local Policing Team has led the installation of a number of 'No Drone' signs at prominent locations around the airport to raise awareness to drone pilots, and members of the general public alike, that it is illegal to fly a drone in that area.
Each sign carries a unique location identifier which can be used to report any concerns about drone use in the area to the police.
Sergeant Ewan Mechie of Police Scotland, Border Policing Command based at Aberdeen Airport said: 'Anyone using a drone for commercial or leisure purposes needs to be aware of all relevant legislation including the dimensions of Flight Restriction Zones around airports and ensure they abide by all of these.'
'Drones of all sizes pose a massive risk to the safety of all aircraft in flight. If anyone is unsure if they are within a Flight Restriction Zone then my advice would be to stay away from anywhere near an airport. What we are after is safe skies while allowing drone users to enjoy their flying.'
Kevin Douglas, operations manager at Aberdeen International Airport added: 'We know most drone owners follow the law and thank them for their cooperation.'
'However, we do need to remind people that there are restrictions to flying the devices near our airport and the last thing we wish to see is the increase in reckless behaviour. It is illegal to fly any drone at any time within the restricted zones unless you have permission from air traffic control at the airport.'
'The new signage around the airport will help inform drone users so they can be responsible and safe.'
Drone pilots are encouraged to be aware of Flight Restriction Zones by consulting the following:
For drone safety information from the CAA please go to caa.co.uk/drones
For drone safety information from NATS please go to nats.aero/airspace/drones/
For the commercial site Drone Safe Register go to dronesaferegister.org.uk/
---