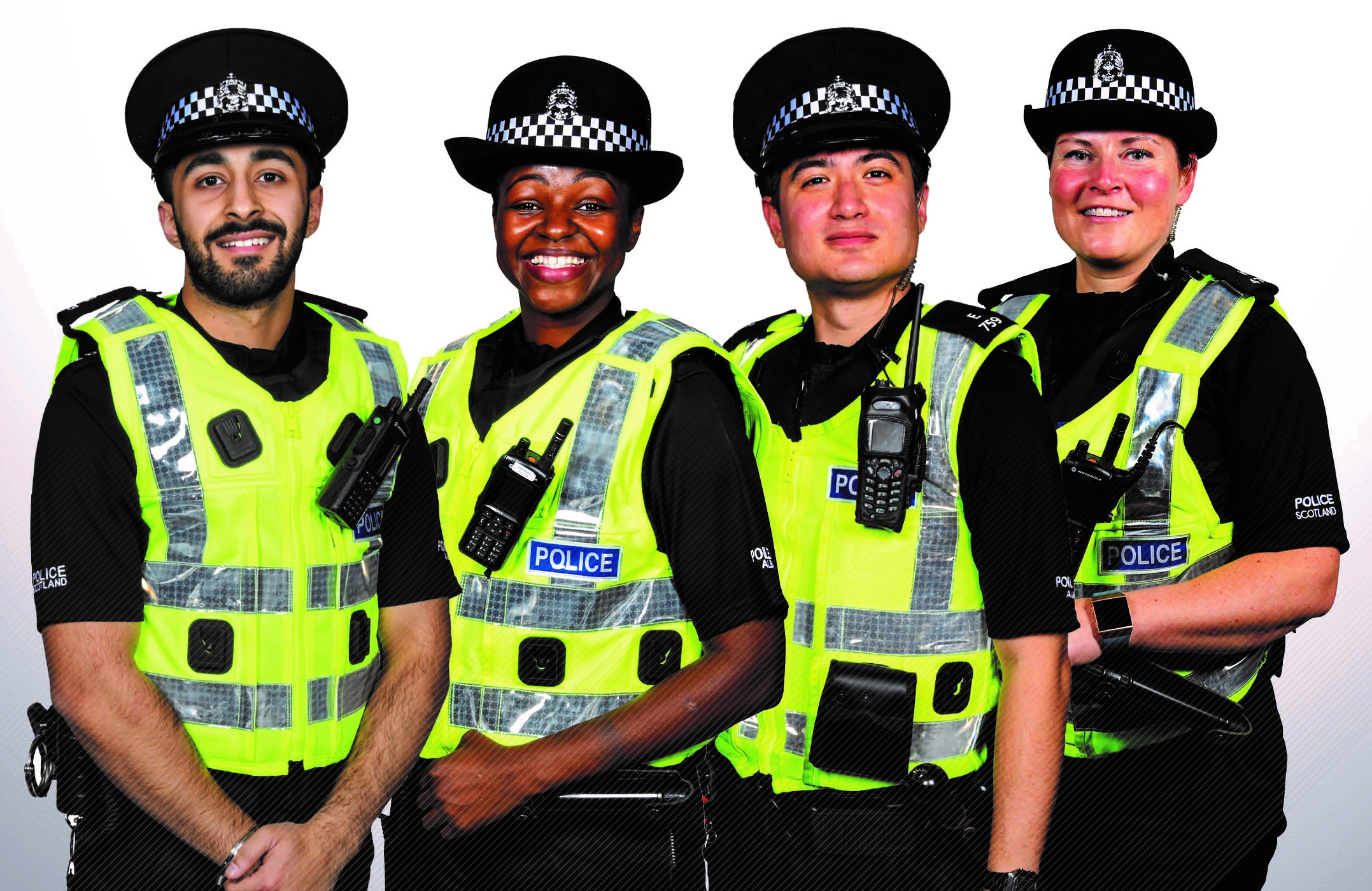 Diversity/Positive Action Team
Police Scotland acknowledges that the communities we serve are incredibly diverse.
Our workforce should reflect this diversity in order to maintain, and strengthen our relationship with the public.
Outcome 4 of our Annual Policing Plan 2022/23 states that "Our people are supported through a positive working environment, enabling them to serve the public".
The following two activities evidence our commitment:
1. Promote equality and diversity, both externally and internally, striving to exceed the requirements of the Scottish Public Sector Equality Duty.
2. Strengthen the diversity of our workforce by continued positive action initiatives to support people from under-represented groups to consider and begin a career in policing.
Our goal to increase equality and diversity is not only rooted in the Equality Act 2010. It is also the morally right thing to do, in line with our values of Fairness, Integrity, Respect, and Human Rights. Police Scotland is committed to promoting and championing equality and diversity. This is both within our organisation as well as in our society.
Police Scotland is a Disability Confident employer, committed to equal opportunities for people with disabilities.
Police Scotland is aware that about 10% of the population lives with a neurodiverse condition, such as dyslexia or ADHD.
Many Police officers and Police Staff with a neurodiverse condition have successful careers with Police Scotland. If you have a neurodiverse condition, please contact our recruitment team to discuss any reasonable adjustments or support which can be put in place.
Positive Action Team
VISION – We aspire to ensure equality of opportunity for all through Positive Action.
PURPOSE – To attract and recruit a diverse workforce and promote our organisational culture of Policing Together where everyone is treated with dignity, fairness and respect.
In order to further our goal to have a workforce more reflective of the communities we serve, the Positive Action Team provides support and organises information sessions and recruitment events.
The activities of the Positive Action Team aim to encourage applications from various minority communities and under-represented groups, such as Black and Minority Ethnic (BME), Women, and LGBTQ+.
In support of Police Scotland's committment to the Armed Forces Covenant we acknowledge the skills and experience that Military Service bring to our organisation.
It is important to note that our recruitment process is open to all regardless of background. All applicants are subjected to the same recruitment steps and need to meet the same high standards in order to be selected and appointed as a Constable.
Our team of experienced police officers and staff; Claire, David, Heather, Sunisa, Louis, Alistair and Renata can be contacted at:
RecruitmentPositiveActionTeam@scotland.police.uk 
The following events are taking place in the coming weeks. The events focus on the recruitment process, the training and what life as a police officer is really like. If you would like to attend one of these events, please email the team using the above email address:
Date/Time

Event

Location

Thursday 1st December 2022

6.30pm till 8.30pm

European Online Recruitment

Microsoft Teams

Monday 5th December 2022

6pm till 8pm

Women Recruitment Event
Training and Recruitment Centre, Jackton, 8 Eaglesham Road, East Kilbride G75 8GR

Tuesday 6th December 2022

10am till 11.30am

Women Online Recruitment

Microsoft Teams

Thursday 8th December 2022

7pm till 8pm

Service Leavers Online Recruitment
Microsoft Teams

Thursday 15th December 2022

6pm till 9pm

BME Recruitment Event

Training and Recruitment Centre, Jackton, 8 Eaglesham Road, East Kilbride G75 8GR

Monday 19th December 2022

6.30pm till 8.30pm

BME Online Recruitment

Microsoft Teams

Tuesday 20th December 2022

6.30pm till 8pm

Women Online Recruitment

Microsoft Teams
Staff Support Associations
Serving officers and Police staff can receive guidance and support from a variety of staff associations and networks which include groups across varied protected characteristics under the Equality Act 2010.
The staff associations also play an important role in bridging the communities they represent with our organisation. They provide insights and a voice in how our policies are shaped.
For a list of existing Staff Associations, see below:
SEMPER Scotland
Scottish LGBTI Police Association
Christian Police Association Scotland
Disability and Carers Association
Scottish Police Muslim Association
Scottish Women's Development Forum