Boat project joins Dive and Marine Unit
A high performance boat will be joining Police Scotland's Dive and Marine Unit as part of a unique development opportunity.
The new, fully recyclable boat – fitted with the latest technology and design features - will look to enhance Police Scotland's response to incidents in the water such as missing person searches, event patrols, body recovery and intelligence-led searches as part of investigations.
Police Scotland were approached by Ultimate Boats in July 2020 with an opportunity to co-design a purpose built boat which would be offered on a research and development cost-free loan for operational use.
The boat will be loaned to Police Scotland for a three year period with an agreement in place which covers the cost of insurance, maintenance and servicing.
The boat will add to the current fleet capacity within the Dive and Marine Unit and can be deployed nationally.
Key features of the boat include:
• a fully covered seating area to improve staff welfare and weather protection
• improved radar technology making it more effective when diving for missing persons
• a hull design that allows the boat to move quicker and more efficiently in the water, creating more stable movement with less slamming impact and fuel saving
• the boat is fully recyclable and reusable, making it more environmentally sustainable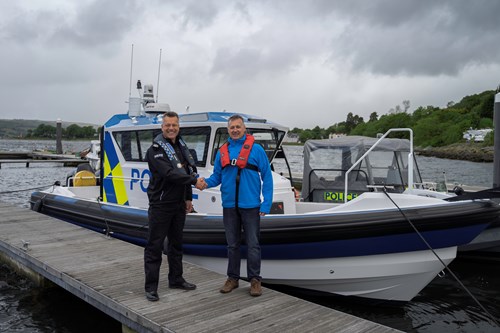 Police Scotland's Dive and Marine Unit worked closely with the company to develop the boat and input into the design and specification to ensure it was fit for operational purposes.
Assistant Chief Constable Mark Williams, lead for Operational Support, said: "This unique opportunity should allow us to benefit from a high performing asset that will make a positive difference to our capability.
"We have a duty to explore new projects that look to improve the working environment for our officers and staff, as well as the response we can provide to the public.
"This opportunity was available for our dive and marine unit and we will continue to review other projects that have the potential to improve our service."
The Clyde-based company are a naval architecture and engineering led organisation looking to develop the world's ultimate range of Rigid Hulled Inflatable Boats (RHIB). The chief designer and one of the founders of Ultimate Boats is a hull designer who has designed boats for the Special Forces, RNLI and military.
ExoTechnologies Founder and CEO, Shane Mugan, said: "We are proud that this pioneering and internationally significant project is being delivered in Scotland, by our talented Clyde-based workforce, in partnership with Police Scotland. To witness the first ever fully recyclable boat, in action, made from our patented DANUTM composite material is incredibly rewarding after several years of research, development and investment.
"It demonstrates how the UK maritime industry continues to develop market leading technologies capable of accelerating the green transition to a circular economy."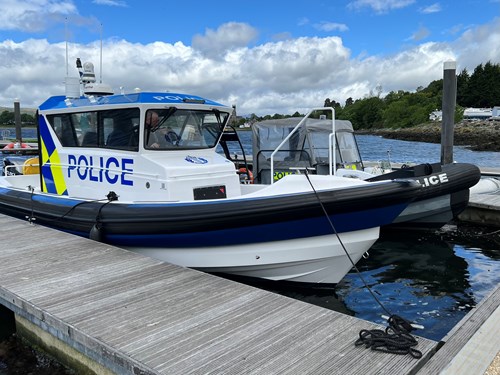 The Dive and Marine Unit support local policing and national divisions by providing assistance with:
• Search (on land and water) - missing persons, body recovery, property recovery, intelligence led searches
• Counter Terrorist security searches
• Flood assistance in support of the Fire and Rescue Service
• Underwater footage / photography
• Search / recovery in a confined space environment.
• Marine Policing - boat patrol, ship boarding, operation specific waterborne patrol of strategic and vulnerable sites / maritime enforcement.
---