Stand Against Speeding - Road safety initiative in West Fife
Officers are working alongside youth volunteers to promote road safety and tackle speeding in the West Fife area.
Stand Against Speeding is a joint initiative between Dunfermline Police Community Team and Dunfermline Police Scotland Youth Volunteers to deter and prevent speeding on roads in the local area using interchangeable message boards.
Officers regularly receive contact from the public highlighting concerns about speeding on roads, particularly around schools, and this campaign aims to proactively appeal to drivers to slow down using bold messaging which can easily be seen at the roadside.
The signs, which are similar to current road signage to avoid distracting drivers, will be displayed in a line, revealing the full message as motorists travel along the road.
The messages focus on easing off the accelerator, slowing down and ensuring the safety of young people, road users and themselves.
Over the summer the campaign will focus on roads in the West Fife area which have been highlighted as a speeding concern by the public.
As the new school term begins, Stand Against Speeding – The School Road Safety Tour will begin on roads near 29 primary schools in the area in a bid to help children travel to and from school with less risk.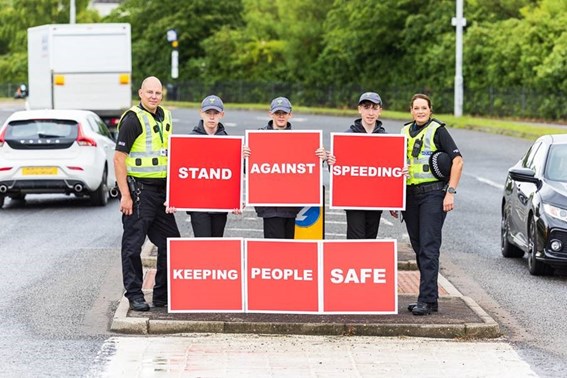 PC Scott Morgan, Dunfermline Police Community Team, said: "Having worked closely with our local schools, it is clear they do a power of good work to educate and promote road safety to children of all ages and parents. Even with these proactive approaches, we still see the trend of heavy traffic congestion and speeding motorists on roads outside schools.
"Young people really have a chance to have their voices heard with this campaign and it's important we let them take the lead with the messaging. They've been telling us about speeding on roads outside schools and the improvements that can be made, so we're more than happy to support them in this initiative.
"We hope drivers will take note of this messaging and slow down. It's a simple yet effective method which I hope will make a difference."
Senior Police Scotland Youth Volunteer Madison MacGregor, who has been with the team for three years, said: "This is great for teaching younger children about road safety but also using the children to get the message across will have a different impact. It will make drivers sit up and take notice.
"I want kids to have reassurance and confidence that they can walk to school and cross the road safely. Encouraging drivers to slow down will help that.
"I'm really proud to be part of the initiative and I hope I can be a role model for others to look up to."
---