Officers working to combat anti-social behaviour in East Ayrshire
Police Scotland is working alongside partners to combat a concerning rise in anti-social behaviour in the East Ayrshire area in recent months, with officers dealing with unprecedented numbers of youth gatherings.
Particularly at weekends, local officers are carrying out patrols in areas where youths are known to gather and where anti-social behaviour is causing concerns in the community. These include New Farm Loch, Dean Park, and Kennedy Drive in Kilmarnock.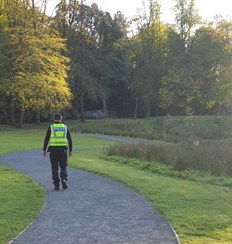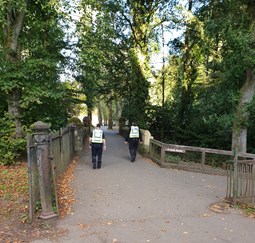 For example, last weekend, (Saturday 8 and Sunday 9 May) four youths were arrested and will be reported for various disorder offences. Two youths were also charged in connection with dishonesty and will be reported. A large quantity of alcohol was seized and a number of youths were returned home by police.

Working with East Ayrshire Council, local elected members, and education partners, officers are calling on parents, carers and guardians to help, and this begins with knowing where their children and young people are and what they are doing.
Inspector Catherine Glass from Kilmarnock Police Station said: "We are having to deal with an unprecedented amount of youth disorder which is causing a nuisance and raising concerns in our local communities.

"We are seeing underage alcohol consumption, fires being deliberately set, littering, members of the public being intimidated by young people and animals, in particular lambs and horses, being targeted. This is completely mindless and senseless behaviour.
"We are working with local businesses who are supporting us to prevent the sale of alcohol to those who are underage and our campus officers are within schools to educate young people. The bottom line is that having a criminal record can impact on the future of young people, particularly job prospects.

"But we cannot do this alone and I would urge parents, guardians and carers to make sure they are aware of what young people are doing and support us in stamping out this kind of behaviour.

East Ayrshire Council is supporting colleagues in Police Scotland to help tackle the anti-social behaviour issues arising in the New Farm Loch area and to maintain community safety.
Bob McCulloch, Interim Head of Housing and Communities, said: "We have enlisted the help of our Youth Action Team to engage the young people in a range of diversionary activities to deter them from anti-social behaviour in the area. In this instance, we have provided our Night League football as an alternative activity for the young people.

"The Youth Action Team has a visible presence in the community which also helps to reassure local residents, but we would also ask parents and carers to support our efforts by ensuring they know the whereabouts of their young people."
Inspector Glass continued: "Over the coming weekends we will continue to have dedicated additional patrols and would ask the local community to speak to us about any concerns. We are also working with bus companies and colleagues from the British Transport Police to combat an influx of youths travelling from out with East Ayrshire."
Anyone wishing to report concerns or criminality can do so via 101. If you see a crime in progress, or in an emergency, always dial 999.


---
---
Read about reporting and FAQ to help you understand how we are policing the restrictions.