Garry Roughley sentenced for robbery on 76 year-old woman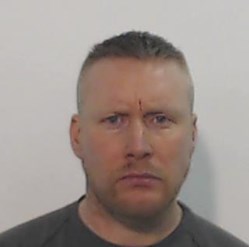 At the High Court in Edinburgh today, Tuesday, 18 May, Garry Roughley was sentenced to six years imprisonment, plus a further three years on licence, in connection with the robbery of a 76-year-old woman within her home in Crossford, Fife in 2018.
Around 11pm on Friday, 4 May, 2018, Roughley approached the 76 year-old woman outside her home in Lundin Road, Crossford, Fife. He threatened her with a knife, bound her wrists with cable ties, blindfolded her and forced her into her own house where he tied her to a chair, taped her mouth and stole a quantity of her jewellery, bank cards and a mobile phone.
Following an extensive police investigation, 39-year-old Roughley was traced in Newcastle and arrested on Friday, 30 October, 2020. He pled guilty on Wednesday, 21 April, 2021 at the High Court at Glasgow.
Detective Inspector Kelly McEwan of Fife Division Public Protection Unit said: "This was a truly appalling crime and one of the most shocking that I have experienced in over 22 years police service. Garry Roughley left the elderly victim gagged and tied to a chair with no means of escape or summoning help. Had it not been for the good fortune of her neighbour spotting her light still on at a late hour and going to check on her, the consequences could have been catastrophic. This was a very distressing experience for her and although it is not something she will be able to forget, I hope that the sentencing will provide some comfort to her and her family."
---
---
Read about reporting and FAQ to help you understand how we are policing the restrictions.