Police Scotland International Academy to support human rights across the world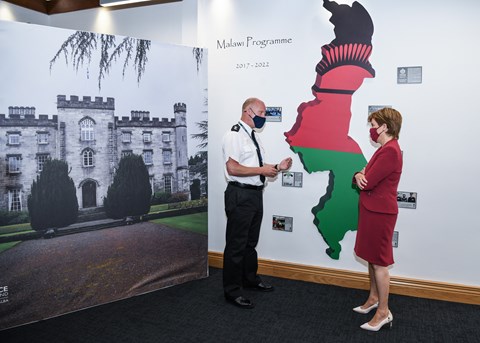 Police Scotland's new International Academy has been opened by First Minister Nicola Sturgeon.
The Academy, based at Police Scotland Headquarters, Tulliallan, enables shared learning across the world and builds on policing in Scotland's rich history of global co-operation.
Among other projects, the work of the Academy will welcome senior police officers from the United States to Tulliallan to attend the Federal Bureau of Investigation's National Executive Institute – the first time the course has been held outwith the US in over 10 years.
Police Scotland has also delivered three online workshops with officers in Colombia, focusing on violence prevention approaches in Glasgow and community engagement approaches in Edinburgh.
The Academy is based at Police Scotland Headquarters, Tulliallan, also the site of the Scottish Police College.
Opening the Academy, First Minister Nicola Sturgeon said: "Police Scotland rightly has a strong international reputation for delivering excellent training overseas and in Scotland, exemplified by its partnerships with organisations and forces around the world. The last 16 months have shown once again the expertise and professionalism of police officers right across the country.
"The International Police Academy will see officers share expertise with, and learn from overseas police forces, contributing internationally as global citizens. It will strengthen ties underpinned by ongoing work with police forces overseas, including to modernise systems used by Zambia's Police Service to support recording and investigation of gender based violence, backed by £162,000 of Scottish Government International Development programme funding."
Scottish Police Authority Chair Martyn Evans added: "The Scottish Police Authority is proud of the valuable and positive role Police Scotland plays through its international development activity, enhancing Scotland's reputation as a global citizen and supporting rights-based and risk assessed initiatives to tackle global challenges. Crucially, this activity supports the prevention of crime at source and the stabilisation of communities across borders.
"The Authority considered Police Scotland's revised International Development Strategy at our June public meeting and we support the strategic aim to provide a world class service to enhance policing nationally and internationally through partnerships, learning and innovation."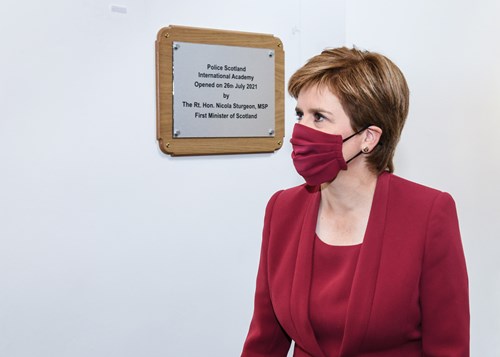 Chief Constable Iain Livingstone said: "The safety and wellbeing of the people of Scotland is, as always, my priority. I know the benefits which looking outward and collaborating and learning with relevant agencies locally, regionally, nationally and internationally can provide to the public we serve.
"Our values of integrity, fairness, respect and enabling human rights; our commitment to policing by consent; and our legal duty to improve the safety and wellbeing of people and communities lie at the heart of our identity.
"These principles and approach are vital in all we do and are, in my view, worth sharing with the world. Their great value has been underlined during our response to the pandemic when the public worked with Police Scotland to strengthen our bond at a time of crisis.
"I'm grateful to the officers and staff within the academy who maintain and build connections to help to improve policing responses and human rights for people here and in other countries and I thank the First Minister and the Scottish Police Authority for their support for this important initiative."
Policing in Scotland has been engaged in international development programmes for decades including inbound study visits to Scotland, as well as outbound deployments of officers and staff around the world, with a particular focus on the Scottish Government's partner countries via the African Programme in Malawi and Zambia.
In Sri Lanka, Police Scotland is half way through a three-year programme of work, funded by the British High Commission in Colombo, which is focused on community policing, the prevention and investigation of Sexual and Gender Based Violence and supporting gender equality in policing.
A strong relationship has also been established and maintained with the Police Executive Research Forum (PERF), based in the USA, following a visit by American police chiefs to Scotland in 2016.
A study at that time of the de-escalation techniques used by Scottish officers lead to the development of the US ICAT (Integrating Communications, Assessment and Tactics) model which has been rolled out by a number of US law enforcement organisations, including the New York Police Department.
---