Volunteer Police Scotland officer saves a life after Naloxone training
A Police Scotland special constable has described how he helped save a man's life as part of a pilot project for officers to carry Naloxone to reverse opioid overdoses.
Stewart Barclay, a volunteer in Greater Glasgow Division, was on duty on Saturday, 27 March, 2021, when he heard a call over the radio for ambulance support from another crew which had come across a man who had collapsed as a result of a suspected drug overdose.
SPC Barclay offered to attend at the location as he was carrying the nasal spray kits, having undertaken his training in the use of the nasal spray to reverse opioid-related overdoses just five days earlier.
"Arriving at the scene, I saw the man was in a bad way - he had all the symptoms we'd been told about in training, including pale skin, blue lips, pinpoint pupils and slow, raspy, shallow breathing," said SPC Barclay, adding: "As we'd been told it was a suspected drug overdose, I decided to administer the Naloxone nasal spray and there was a slight improvement. His breathing regulated a bit, but then he deteriorated."
Stewart, who has 20 years' service as a special constable, gave a second dose of Naloxone, in line with his training, shortly before the Scottish Ambulance Service arrived at the scene. Further Naloxone was given by ambulance clinicians, which stabilised the man before he was taken to hospital. The man was discharged from hospital two days later.
Carriage of Naloxone by any Police Scotland officer as part of the test of change is entirely voluntary, however, training for all regular officers of the rank of Police Constable, Sergeant and Inspectors within the test bed areas is compulsory. As a special constable, however, it was entirely Stewart's decision whether or not to attend training.
SPC Barclay - whose day job is director of a building services company - said: "The two-hour training input taught us about the effect and symptoms of an opioid related drug overdose, as well as how to use Naloxone itself. It gave me all the information I needed and quelled any concerns I had. I went into the session with an open mind and at the end I made my own decision that I wanted to carry it. It's really simple to administer and I feel that I was able to help save a life as a result.
"One of the principle duties of a police officer is to preserve life, and I really do believe I was in a position to do that on that Saturday night because of the training I've had and the Naloxone I was carrying. I don't think I've done anything any other police officer wouldn't have done, though; it's part of my duty and I'm glad I was able to help."
Assistant Chief Constable Gary Ritchie (Head of Drug Strategy) said: "This is the second instance of Naloxone being used in Glasgow since the pilot started, and the second time our officers have helped save someone's life as a result.
"These are situations where the police, in the line of their duties, have come across people needing help and have happened to be first on the scene. Our officers have been able to buy people experiencing an overdose that extra time before an ambulance has arrived. The Naloxone kits are an extension of the first aid training they already receive and are another tool on their belt to provide help while on duty.
"I've spoken to Stewart about the incident and his actions epitomise why people volunteer to be special constables; they do it to help communities, and what better way to do that than by helping to save a life."
The test of change is taking place in Falkirk (C - Forth Valley Division) and Dundee City (D - Tayside Division), as well as Glasgow East (G - Greater Glasgow Division); training in Glasgow and Falkirk began at the start of March 2021, and will get underway in Dundee City in the middle of this month.
ACC Ritchie said: "All of the officers who are carrying Naloxone volunteer to do so, and I'm very proud that we have a high number who are taking it out on shift with them. It is still early in the pilot, and we have six months to see what impact this work will have.
"Our officers are visibly carrying these kits, and we hope this will help shape and change attitudes for people who are living with addiction at the moment to see that all public services - including the police - are looking to help them, and this might make them feel less marginalised and more able to access the support services which are available.
"The pilot will be subject to a full independent evaluation which will look at attitudes in the public and the police, as well as the level of use of Naloxone, and that in-depth work will help us to make a recommendation for the future."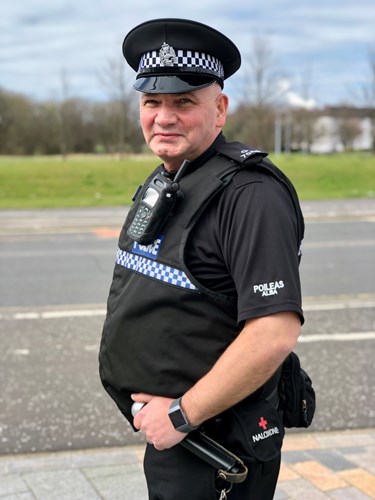 Special Constable Stewart Barclay
---