Area Commander
Dumfriesshire Command Chief Inspector Stephen Stiff is the Local Area Commander for Dumfriesshire and has responsibility for policing across these local areas.
---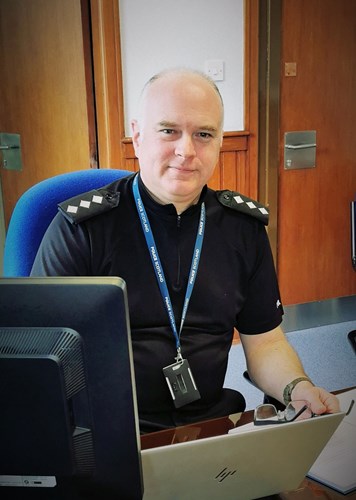 Find your local Police Station
The Area Command is made up of local wards which are:
North West Dumfries
Mid and Upper Nithsdale
Abbey
Nith
You can contact the Community Policing Team for the above wards at: NithsdaleCPT@Scotland.pnn.police.uk
Annandale South
Annandale North
Annandale and Eskdale
You can contact the Community Policing Team for the above wards at: AnnandaleandEskdaleCPT@Scotland.pnn.police.uk
Please note that our Community Team email addresses and social media channels are not for reporting crime or ongoing incidents. These should be reported by calling 101 (non-emergency) or 999 (emergency).
Our 'Contact Us' mailbox and community mailboxes are not monitored 24/7.
In an emergency always dial 999. For non-urgent crime, you can contact your local police office by telephoning 101.
Contact Us
There are several ways you can contact your Community Policing Team or make a report to the police.
If your report is not an emergency call 101 or, if your enquiry is an emergency, always dial 999. If you have dialled 101 or 999 by mistake or if you no longer require assistance, please stay on the line and let us know rather than ending the call.
If you wish to report a crime online, you can do so here.
If it is not an emergency and you are not reporting a crime, you can visit or email your Community Policing Team by clicking on the relevant Ward Areas below listed above.
Alternatively, you can contact Scottish Crimestoppers who are an independent charity that give people the power to speak up and stop crime anonymously.  You can call them on 0800 555 111 or email: crimestoppersscotland-uk.org
Or if you have a general enquiry or wish to provide feedback, you can complete the Contact Us form.
Get involved
If you are looking for details of our local meeting dates open to members of the public these can be found on our social media pages.
Twitter:  @DumfriesGPolice @NithsdalePolice  @AnnanEskdPolice
Facebook: DumfriesGallowayPoliceDivision
Partnerships
Officers in the Dumfriesshire area work in partnership with Dumfries and Galloway Council, other public services and the community and voluntary sector in order to improve outcomes for communities.
In all situations where a crime has been committed, you should contact Police Scotland  however, there are many other services available to provide support where there is no criminality.
The most frequently used are:
---
Priorities
Dumfries & Galloway Local Policing Plan 2017-2020 (PDF)
EqHRIA Summary of Results for LPPs (PDF)
The local priorities for Dumfriesshire are:
Violent Crime, Disorder and Anti-Social Behaviour
Acquisitive crime
Substance Misuse
Road Safety and Road Crime
Protecting Vulnerable People
Each area is served by a number of community policing teams. These teams are built around the needs of local people. They are responsible for responding to calls in the local area, as well as looking for long term solutions to key issues.