A Day in the Life: Dive and Marine Unit
In this week's episode of our Day in the Life series, we met with PC Ewan Alexander a Diver within the Dive and Marine Unit West, based in Greenock. Ewan took us through the challenging life of a diver, his usual activities and jobs, what equipment they use and how he got involved with the Unit.
What are the hours of work for a diver?
An average week sees the Dive and Marine Unit working 8am until 4pm, Monday to Friday. However, the nature of the job - and the need to react quickly to certain situations – means that early starts, late finishes and weekend work are very common.
As there are only two marine units in Scotland - in Aberdeen and Greenock - they can be pulled from one side of the country to the other on a regular basis, resulting in very long days. It can be tiring work, very stressful and upsetting depending on the job you are doing on any given day.
What are the main jobs of the Dive and Marine Unit?
The Dive and Marine Unit spend the majority of their time looking for missing persons, whether they know if the person is in the water or is in the vicinity of water.
They work from intelligence to refine the area where the missing person is likely to be and will either kayak or use a boat to get to the likely area before then deciding whether to dive in.
Beyond looking for missing persons, the Dive and Marine Unit also hunt for murder or assault weapons which have been dumped in canals and rivers.
Marine Unit boat and Marine Policing Unit vanThey also have search boats for drugs and take part in counter terrorism searches for visiting VIPs.
How did you become interested in the Dive and Marine Unit?
Ewan first became interested in joining the Dive and Marine Unit six years ago after being involved with the police for two years.
When he first joined the police he initially wanted to join CID (Criminal Investigation Department), or the Dog Unit, but as soon as he realised he could join the Dive and Marine Unit he put in an application and before long he had passed the course and joined the unit!
What training do you need to join?
There is an eight week diver training course, at the end of which you will become a qualified diving instructor. You also have to have had enough service within the police force to be able to make an application.
Once you have joined, you can take a training course to become a Maintenance Equipment Officer where you are sent to a course in England for a week and trained to maintain and fix breathing apparatus.
What equipment do you use?
The nature of the job means there is a lot of equipment to be used to ensure the job is performed as safely and efficiently as possible.
As a Police Scotland Diver, they use scuba equipment, breathing apparatus, and use swift water rescue training equipment such as helmets, safety ropes and harnesses.
What is your favourite part of the job?
I really enjoy the area we cover and how we get to see a lot more of Scotland than I did in my previous role! I get to meet a lot of different people and going in the water – though occasionally not very nice – you get to go on nice training dives, whilst you also get to learn something new everyday.
The above video was produced in partnership with Young Scot and Youth Link Scotland.
Read our second interview with the Dive and Marine Unit here.
---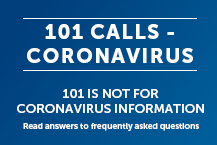 101 calls are not for Coronavirus information, read our FAQs to help you understand how we are policing the new restrictions.