Winter Road Safety
The weather in Scotland is notoriously unpredictable at the best of times and none more so than winter. We aim to provide you with all of the information you need to be fully prepared for a typically cold, icy and wet season. Whether you are a cyclist, driver or pedestrian, the information below should give you an understanding and awareness of what you should be doing to ensure that you are ready for winter.
Being prepared for winter can be as easy as a few simple steps before planning a journey on the road:
Check the weather forecast and road conditions
If the weather is poor or the road surface is dangerous, consider whether you need to travel right now or if you can wait until the situation improves
Consider alternate routes
Consider alternative modes of transport
Allow extra time for your journey
Make sure your mobile phone is fully charged
Let people know where you are going and when you expect to arrive.
Advice for Drivers
Prepare for the winter by keeping your vehicle well maintained and stocked with essential supplies before you take to the road.
Take special care that brakes, tyres, lights, batteries, windscreens and wiper blades are in good condition and well maintained. In addition, washer bottles need to contain an additive to stop the water from freezing.
Tyres should also be checked weekly to ensure they are legal and at the correct pressure (consult your vehicle handbook). The minimum legal tread depth for cars is 1.6mm across the centre 3/4 of the breadth of the tread around the entire circumference. They should also be checked for bulges, cuts or tears which weaken the tyre. Failure to maintain your tyres could lead to a maximum of £2,500 fine and 3 penalty points per tyre.
Make sure your windows are clean, properly demisted and clear of snow and ice before you drive. Also make sure that your roof is clear of snow as this affects drivers behind you and can also cause obstructions on your windscreen when braking.
Be careful with low sun as it can make it difficult to see and a dirty, greasy or damaged windscreen can make this worse.
All lights must be kept clean and clear and be in good working order, including registration plate lights. Use the help of someone to check that all of your lights are working.
Consider keeping an emergency kit in your car for severe weather, this should at least include:
An ice scraper and de-icer
A shovel for snow
A torch and spare batteries
Warm clothes, boots and a blanket
Some food and a warm drink in a flask
A first aid kit
Battery jump leads
A map or device with offline maps for any unplanned diversions.
Driving in bad weather
Be mindful of the road conditions when you drive; bad weather is often blamed for causing accidents however the real cause is often inappropriate driving for the conditions that exist.
In wet weather, stopping distances will be at least double those required for stopping on dry roads. Aquaplaning can be a frightening experience; this is where a wedge of water builds up between the front tyres and the road surface. If this happens, the safest solution is to remove pressure from the accelerator, allowing the vehicle to lose speed which will help the tyres regain their grip.
Ice and snow can increase stopping distanced by up to ten times so keep well back from the vehicle in front. Anticipate when you will need to be stopping and be alert to other road users. When the roads are icy, drive at a slow speed in as high a gear as possible; accelerate and brake very gently.
High-sided vehicles are most affected by windy weather, if you are driving a high-sided vehicle, be cautious of other road users and plan your journey to avoid areas that may be closed to high-sided vehicles such as bridges. If you are a driver and passing a high-sided vehicle in windy weather, do so with caution as they can be blown into your path by sudden gusts of wind.
Driving in fog drastically reduces visibility so it is important to make your presence aware to other road users. Use dipped headlights if driving in light fog and use fog lights if driving in thick fog. Fog lights must only be used if visibility is less than 100 metres and must be switched off if visibility improves.
Advice for Cyclists
Poor road conditions at winter can affect cyclists as well as drivers. It's important that all road users are mindful of the effects that poor weather can have on their ability to navigate the road safely.
You should ensure that you and your bike are visible to other road users by investing in a good set of front and rear lights (white at the front, red at the back) and by wearing clothes that help you be seen on your bike such as bright and light reflective items.
Get a good set of mud guards and consider heavy duty tyres with a deeper tread to cope with slippery surfaces as it can take longer to stop in poor weather. You should also invest in warm, waterproof clothing that does not impact your ability to cycle including gloves that will still allow you to switch gears and use the brakes easily. Make sure that your helmet is correctly fitted and consider installing an additional light on your helmet.
Obey road signs and markings, particularly red lights and do not cycle on the pavements which may be slippery and can also endanger pedestrians. It is also important to routinely check and maintain your bike, especially the brakes.
Be mindful of the effects poor weather can have on other road users and be alert to possible dangers around about you. Cars can take twice as long to stop when wet and braking can be unpredictable in ice and snow.
Advice for Pedestrians
Pedestrians must ensure that they are well prepared for winter and dress appropriately for the temperature. It's important to ensure that the pavement outside your home is safe to walk on and clear of ice or snow. You should also wear shoes or boots with non-slip soles and consider wearing reflective or bright-coloured clothing so that other road users are able to see you when it's dark or visibility is poor.
Hats or scarves that cover your ears can also distort or eliminate the muffled sounds of approaching vehicles, so it is important to take extra care when crossing the road or checking for traffic. Keep warm but make sure that you are fully aware of what's going on around you.
Follow all traffic signs and signals and before you step off the kerb at crossings, make sure any oncoming vehicles have come to a complete stop. It is dangerous to try and run across the road as you may not be aware of dangers such as ice, pot holes or deep puddles that can cause injury. Keep in mind that vehicles can take up to ten times longer to stop on slippery surfaces, so don't make any sudden movements and give motorists plenty of time.
Do not cross the road while distracted, for example, whilst using your phone. If walking home, particularly late at night, make sure someone knows when you are expected to arrive at your destination in case something happens which leaves you exposed to freezing temperatures longer than planned.
---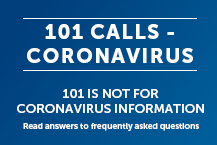 101 calls are not for Coronavirus information, read our FAQs to help you understand how we are policing the new restrictions.