Adult Cyclists
According to the Scottish Government Household Survey 2012 35% of all households in Scotland have and adult who owns a bicycle. With 2% of all people commuting to work doing so by bicycle there is substantial number of cyclists on the road network.
Many accidents happen to cyclists because car drivers don't see them until it is too late to stop. This problem is worse at night and in poor weather conditions.
By wearing the right clothing you can increase your chances of being seen by drivers. Bright and fluorescent materials should be worn in the daytime and reflective materials at night. Fluorescent clothing enables drivers to see you in daytime or in poor weather much more easily than if you are wearing dark clothing. A number of different fluorescent clothing items and accessories are available to help you to be seen by drivers.
In order to be seen at night you will require reflective clothing. This reflects light straight back at drivers so that they can see you. Reflective material is available as self-adhesive strips, stickers etc which can easily be attached to clothes and other items such as bags.
Wearing a helmet when cycling may help protect your head (if fitted properly) if you are involved in an accident.
Proper maintenance of your bike will ensure your bike is roadworthy and best equipped to protect you on the road.
Brakes - adjusted so brakes can be applied with small amount of pressure
Tyres – inflated to correct pressure
Chain – tension checked, clean and oiled
Steering – headset correctly adjusted
Reflector(s) – clean and ensure they are on view to other road users
Lights - At night your cycle must have white front and red rear lights lit. It must also be fitted with a red rear reflector (and amber pedal reflectors, if manufactured after 1/10/85). White front reflectors and spoke reflectors will also help you to be seen. Flashing lights are permitted but it is recommended that cyclists who are riding in areas without street lighting use a steady front lamp.
Cyclists - What to do if you're involved in a collision with a motor vehicle?
Get off the road and deal with the incident in a safe place.
Stay calm.
Seek medical attention if required.
If you are injured or you suspect that an offence has occurred, you should report the incident to the Police as soon as possible and in any case within 24 hours (call 101 or attend at your local station).
In case of serious injury or obstruction to the road that cannot be easily cleared, call 999 requesting police/ambulance attendance.
The driver of a motor vehicle must stop and provide their name, address and the name and address of the vehicle owner, together with the vehicle registration number as required by Section 170 of the Road Traffic Act 1988.
If the driver does not stop, note the registration number of any vehicles involved and the details of any additional witnesses before contacting the police.
Visit Cycling Scotland for Safety and Training Videos
---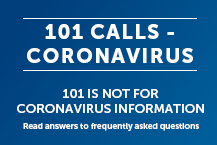 101 calls are not for Coronavirus information, read our FAQs to help you understand how we are policing the new restrictions.