Student Safety
Starting university or college can mean some significant life changes - making new friends, studying in a new town, going out to new places and living independently for the first time. However, some of these changes could also increase your risk of becoming a victim of crime.
Start out in the safest way possible, take some simple steps to protect yourself and your property, and above all keep safe.
Home and Personal Safety 
Take care when arranging accommodation – don't leave yourself open to fraud and find you've nowhere to live when you arrive.  Properly research any potential property.
Make sure potential landlords have the appropriate local authority licence. Landlords of student flats may need a licence for a 'House in Multiple Occupation', which aims to ensure that the accommodation is safe, well managed and of good quality.
Think about your level of security – are there working locks on doors and windows? Ensure you close them every time you go out.
Record details of all your valuables and mobile property, including phones, laptops, cameras and tablets at www.immobilise.com
Online Safety 
Always use passwords or PINS on mobile phones, tablets, laptops and desktops.
Use privacy settings on social networking sites and think carefully about who you make an online friend.
What goes online stays online – don't leave yourself open to criminal charges or vulnerable to blackmail.  Think carefully about what you're saying and pictures you are posting on social networking sites.
Find more information at GetSafeOnline
Party Safety
Socialising is a major part of student life. Keep these simple steps in mind when partying.
Plan your night out including how to get home.
Take your mobile phone with you and make sure it's charged.
If you leave a drink unattended then don't go back to it.
Be sensible about how much alcohol you drink - a drunk person is more vulnerable and an easier target for criminals.
If you feel very drunk or unwell, ask a trusted friend or a member of the club or management to help.
Drink responsibly and remember that your actions impact on others - alcohol can reduce self-control…..know your limits.
Avoid getting involved in anti-social behaviour or violent confrontation, remember even one punch can have fatal consequences and ruin two lives. 
Stick with friends and avoid leaving parties or nights out with strangers, look after one another and make sure you all get home safely…..avoid travelling alone.
Look after bags and valuables. Don't attract attention to your phone, especially if under the influence of alcohol.
Keep enough money to pay for your journey home.
Never drive under the influence of drink or drugs
Drugs
Using illegal drugs, illicit substances or other non-prescription medicines endangers your health and your life; there is no real way of knowing exactly what you are taking or how your body will react. They can contain unknown chemicals which can be harmful, even fatal. 
Mixing drugs and alcohol can produce chemical reactions which you cannot control. Why jeopardise your health and safety? 
Possessing illegal drugs can have legal consequences, affecting the rest of your life. Why jeopardise your future career or travel opportunities with a drug conviction?
Mule Scams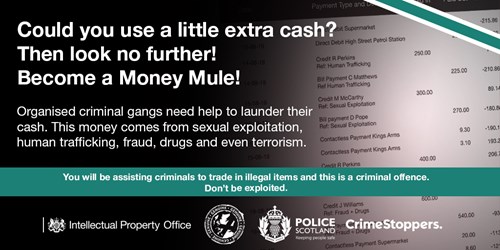 A money mule is someone who allows criminals to use their bank account to launder their money. You will be asked to allow this money to be deposited into your bank account and then transfer it to another account. This money comes from sexual exploitation, human trafficking, fraud, drugs and even terrorism. Allowing your bank account to be used to launder this money is a criminal offence.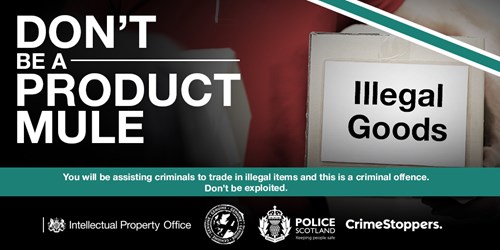 A product mule is someone who receives deliveries of packages to their halls of residence or home address on behalf of others for payment. These parcels are then collected by another party or forwarded on to another location. These packages may contain illegal goods such as drugs, firearms components and other dangerous and illicit products. Taking receipt of any such illegal item is a criminal offence.
Students are particularly vulnerable to these kind of threats. You can find current events and information days by searching for #moneymule and #productmule on Facebook, Twitter and Instragram. You can also access further information on mule scams through the PDF documents at the foot of this page.
You can follow the Student Safety advice on our Facebook, Twitter and Instagram channels by searching for #BeLikeSam and #StudentSafety
In providing as much easy to digest information as possible on how students can enjoy Scotland during their time here through simple explanations of some of our laws, the 'Guide to Scots Law' booklet has been produced in partnership with New College Lanarkshire and the Crown Office and Procurator Fiscals Service in assisting this understanding. The booklet is available in several languages on this page, and has been included within the Student Safety campaign as an additional resource available.
Related
Party Safe - Information on how you can stay safe on a night out.
Substance Misuse - Information about illegal drug, New Psychoactive Substance and Solvent abuse.
Identity Theft, Fraud and Scams - Learn more about how you can stay safe from identity theft.
Keep Safe Online - How to keep safe online and information on why you should think carefully about your online activity.
---
Read about reporting and FAQ to help you understand how we are policing the restrictions.