Safety and security at football matches and other major events
Police Scotland wants everyone who attends a football match or other major event, including concerts, anywhere in Scotland to enjoy it in a safe and secure environment.
Here are a few points which will help you have an enjoyable experience:
Plan your journey to the venue in advance and get there in plenty of time
If you're using public transport you should make sure you know when your last bus or train is
Keep in touch with your friends or family
Always comply with the ground or venue's safety and security arrangements or conditions of entry
Drink alcohol responsibly - you could be refused entry to the venue if you are excessively under the influence of alcohol
Taking pyrotechnics or fireworks into a designated sporting stadium or any other venue is a criminal offence
Please show consideration for the general public and those living and working in the vicinity of your chosen venue
The responsibility for the safety and security of spectators or those attending an event is a matter for the home club or event organiser. Our officers will be on hand to offer help and be available to help minimise disruption to the local community
Public processions - Police Scotland's role
Public safety is a priority for Police Scotland and we also respect the right to assembly.
The decision to amend the route, the timing or prohibit any procession is a matter for the relevant local authority. However, Police Scotland is committed to assisting councils to make an informed decision by making appropriate representations on notifications which could potentially significantly risk public safety, disorder, damage to property or disruption to the life of the community.
In advance of any procession a comprehensive and appropriate policing and traffic management plan will be put in place to ensure the safety of those taking part, anyone taking part in a lawful counter demonstration and minimise the potential for disruption to the local community.
We will work closely with councils, the organisers and other stakeholders to facilitate a procession and any counter demonstration safely. Police Scotland is happy to engage with any organisation or member of the public to discuss our policing of these events.
---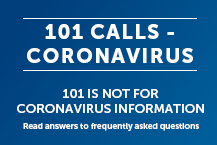 101 calls are not for Coronavirus information, read our FAQs to help you understand how we are policing the new restrictions.