One Punch
Do You Know the Shocking Facts of One Punch Crime?
Throwing a single punch can have devastating consequences. Just one punch can cause life changing injuries and even death. A moment of aggression, whether unprovoked or in self-defence, can result in a lifetime of consequences, regret and guilt. If you find yourself involved in a fight, our advice is to walk away. It could save your life.
In Scotland, between April 2017 and March 2018, six people died as a result of a single punch. Many more suffered long-term injuries.
The most recent Scottish Crime and Justice Survey, carried out by the Scottish Government, confirms that 18-24 year olds are most likely to be victims of a violent crime, and that violence is more likely to occur in urban environments. Three-quarters of recorded violent crimes in the year 2016-17 took place in public places, nearly 10% close to a pub or club.
A survivor's story
John Black (20), from Blairgowrie, was in a coma for nine days after being punched once on a night out in Dundee, causing him hit his head on the ground. "I woke up with staples in my head and half my skull missing. It was worrying for my family, what they had to go through."When I was in the hospital, the nurses said it was the emotional side of my brain that was affected. I'm definitely more emotional now."
John's chance of a career as a professional footballer was ended as a result of his injury, doctors advising that heading a ball again could prove fatal. He suffers from double vision and was unable to drive for many months after the incident.
He said, "If you do lift your hands there are consequences, not just for you but also family and friends. People don't think about what could happen, either for themselves or others, if you punch somebody."
Young men most at risk
More than 80% of violent crimes in Scotland are perpetrated by men, three quarters of them under 40 and just under half under the age of 24. Four of the six deaths last year involved offenders under 18, and 14% of violent crimes in 2016-17 were committed by under 16s.
With young men most at risk of being involved in violent incidents, alcohol can also be a significant factor. Nearly half of all recorded violent incidents involve drinking. In four of the six deaths from one punch in Scotland last year, alcohol was known to be involved. Our advice to those planning a night out:
Getting into an altercation can result in a lifetime of consequences, guilt and regret. It increases the risk of becoming a victim of crime or getting into trouble if a situation escalates into violence. Just walk away.
Think about how much you are drinking, and remember that alcohol effects both your body and mind.
Remind yourself what these effects are. Alcohol is a proven precursor to antisocial behaviour, which all too often leads to far more serious criminal acts.
Drinking too much affects your judgement, leading to bad decisions, which could lead to your arrest.
Alcohol reduces self-control, giving you a false sense of bravery or causing heightened and uncharacteristic aggression. 
If you get involved in a fight the likelihood is that you will be arrested. That one incident could cause a chain of events that you will have no control over.
You could go to jail
Your friends may be called to court as witnesses; they will be interrogated
Your employer or college may hear about your conviction and, even if you don't get a custodial sentence, will they keep you on?
You could be banned from every pub in your area
You may seriously hurt or even kill someone
You will carry the consequences, guilt and regret of your actions for the rest of your life
Your family, and the family of the victim, will have to live with these consequences too
A caution for a violent offence will show on a Criminal Records Check (CRB) which could bar you from many jobs.
Carolyn McCole, works for Glasgow based organisation Includem, which provides intensive, bespoke support to young people in challenging circumstances to help them create a more positive future. She offers practical advice for young men headed out for the night.
She said, "A night out should be filled with fun, but sometimes the additional stress and alcohol consumption can remove feelings of goodwill. We recommend those worried about potential conflicts take CARE –
Choose: Remember that the way you choose to view a situation affects how you feel about it and how you respond to it. Perhaps the person looking at you doesn't think badly of you. Maybe the person putting you down is having a bad day. Do you feel the same way about the person annoying you? Take a step back and ask yourself – is this situation really worth getting worked up and losing my temper over?
Act: If you can see that the person might be having an off day, or it's not personal, or that it's not worth ruining the fun over, how would you choose to act? Ask yourself what your feelings are telling you. Perhaps anger is a sign that you're upset by what's happened. You should think of the people you know and ask yourself who would give the most sensible advice and go and talk it through with them. Take some time away from the person or situation that's upsetting you, even if this is just doing something different together. Sometimes we need to think about how we have made others feel and apologise first or even do something to show we are sorry. And, when you feel scared, this can be a sign that you should remove yourself from the situation.
Results: By changing the way you choose to see and then act on a situation, the results will be different. By stopping, thinking, viewing things differently and taking control of emotions, you'll have taken control of the whole situation and ultimately what happens.
Evaluate: Ask yourself, how did thinking and acting differently change the situation?Did you have a more peaceful night? How did the people around you feel? Is this an approach you could extend to other areas of conflict in your life? Can taking this control of what you think and feel help you in other areas of your life?
---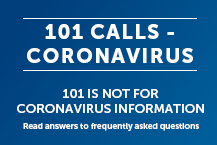 101 calls are not for Coronavirus information, read our FAQs to help you understand how we are policing the new restrictions.