On the Move
Keep safe on the move
Your chances of becoming a victim of crime whilst travelling are low and public transport is a safe way to travel. However you can take still take some simple steps to stay safe whilst on the move - in your vehicle, on foot, going by public transport or in a taxi / private hire car.
What general steps can I take?
Plan your journey.
Tell someonewhen and where you're going and when to expect you to get there.
Carry a mobile phone and make sure it's charged.
Be aware of your surroundings and look confident about where you are going.
Avoid listening to personal stereos which can make you less aware of what's happening around you.
Personal attack alarms are good to have – makes sure you carry it in your hand so you can use it immediately. Choose a type which continues to sound if you activate and then drop it.
DON'T carry weapons or items such as pepper spray – this is illegal.
How do I stay safe on foot?
When out walking, always attempt to walk facing the traffic so that a car cannot pull up behind you.
If you think someone is following you, check by safely crossing to the other side of the street - cross more than once if necessary. If the person behind you crosses also and you believe that your suspicions are confirmed, stay to main, busy routes until you get to the first safe place and contact the police. Avoid using a phone box in the street as this gives the person following you an opportunity to trap you.
If you regularly go jogging or cycling, try to vary your route and the time you go. Stick to well-lit, preferably busy, roads with pavements and avoid wooded areas.
Don't take short-cuts through dark alleyways, parks or waste ground.
How can I keep myself safe when driving?
Drive carefully and NEVER drive whilst under the influence of drink or drugs.
Always wear a seatbelt.
Don't drive whilst using a hand held mobile phone or device.
If someone attempts to flag you down, drive on until you come to a service station, or somewhere busy, where you can safely call the police.
Keep car doors locked when driving and keep your valuables out of sight. If you open your window, only wind it down a little. Winding the window down further than necessary will leave you in a vulnerable position, especially when stopped in traffic.
If you think you're being followed by another vehicle, try to alert others by flashing your lights and sounding your horn. If you can, keep driving until you come to a busy place where you can contact the police.
In a car park, try and choose a well lit parking space near the exit if available.
The Safer Parking Scheme is a police initiative aimed at reducing crime and the fear of crime in parking facilities. Park Mark® is awarded to parking facilities that have met the requirements of a risk assessment conducted by trained Police officers which mean the parking operator has put in place measures that help to deter criminal activity and anti-social behaviour, preventing crime and reducing the fear of crime in their parking facility. To find a car park with a Park Mark award visit (link) www.parkmark.co.uk
If you're returning to your vehicle, make sure you have the keys ready before you get to the car so you don't need to stand at your vehicle looking through pockets or a handbag.
If you're a lone female and break down then sit in the passenger seat with the doors locked whilst awaiting assistance.
For more advice about how to keep your vehicle secure, visit our Keep your Car Secure information.
What can I do to stay safe on Public Transport?
Try to use busy stops / stations, especially after dark.
Remain aware of who is about when using an automatic ticket machine.
If CCTV is available, stand in view of it while you're waiting.
If you've been drinking, try and travel with others and be very careful on train / tram platforms. Remember it's an offence to be drunk on a train and you may be refused travel on public transport.
Take care when crossing roads and tram tracks, especially if you've been drinking alcohol.
On an empty bus or tram, sit near the driver.
On a train, sit in a carriage where there are other people - ideally, one which will allow you to alight close to your station's exit.
Check to see where the nearest emergency chain is located.
If you feel threatened at all, move away and tell the driver, conductor or guard.
Report unattended bags, packages or parcels immediately.
What should I think about when using taxis or private hire cars?
Travelling by taxi or private hire car is a safe way of getting to where you're going. However criminals do occasionally masquerade as licenced taxi drivers in an attempt to lure people into their cars. Take some simple steps to keep safe when you're using a taxi or private hire car:
If you know a taxi company you are happy with, try and use them regularly and keep their number on your phone
Pre-book your taxi home before you leave the house, or at the very least before the end of your night out.
Choose a well-lit area to be collected from where other people are likely to be about. Avoid isolated or remote areas.
When booking a private hire car, ask the company to text you when the taxi has arrived. This means you can avoid waiting in the street and will have your own journey record. Consider choosing a company which offers this service.
Make sure you've got enough money to pay for your journey.
If you've ordered a private hire car, make sure the one that arrives is yours - have the driver confirm the details to you.
Taxis can ply for trade but private hire cars can't and must be pre-booked. Don't make an on street arrangement with a private hire car driver as it won't be recorded by the company.
Don't jump a taxi rank queue as this is likely to lead to confrontation. Follow the instructions of any rank marshals who may be present.
NEVER get into a vehicle unless you're sure it's either the private hire car you ordered or a licenced taxi - all taxis and private hire car vehicles must have local authority plates and rear window stickers indicating the company name.
When you arrive home, ask the driver to wait until you get safely into your house before they drive away.
The driver should have a badge which should be clearly displayed. You can ask to see this.
When ordering a taxi from a public place, be discreet – don't shout out all your details - you don't know who is listening in.
Try and share a taxi with a friend, particularly if you've been drinking. If you're on your own then sit in the back seat.
Always wear a seatbelt - it's the law and more importantly it's for your own safety.
If you're unhappy about the conduct of the driver then contact the local authority licencing department or the police. If you don't feel confident to ask the driver for his details or badge number, ensure you note the taxi / private hire car licence number and local authority. This information is on the plates attached to the front and rear of the vehicle and sometimes on a door sticker.
---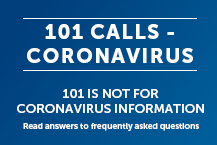 101 calls are not for Coronavirus information, read our FAQs to help you understand how we are policing the new restrictions.