Safe Internet Browsing
How can I protect my identity and surf the internet safely?
Keep your computer browser and security software up-to-date and use firewall and spam filters.
Block spam emails.
Use securely encrypted Wi-Fi at home – if you can access it without entering security data then so can someone else nearby. Be cautious if using public space Wi-Fi and NEVER enter passwords or personal data.
NEVER click on an e-mail link from an unknown source. Opening fake emails can infect your computer with a virus allowing someone to remotely access and control your system and data.
Avoid risky websites, including supposed investment sites.
Always change default passwords at the earliest opportunity and replace for strong passwords with random characters. Avoid passwords like dates of birth and mother's maiden name.
Don't respond to unsolicited e-mails or telephone calls asking for you to provide some of your personal information i.e. name, date of birth, national insurance number – see more information below.
Banks and financial institutions do not send emails asking you to verify your bank details by clicking on a link. Do not trust such emails, no matter how authentic they appear. You can always call your bank using the phone number on a genuine piece of correspondence.
What should I think about when using internet on my mobile devices?
Advice on how to protect your mobile device from theft can be found in our Keep your Valuables Secure section. However, you can take extra steps to ensure the data your mobile devices contain is kept secure. Although very convenient and user-friendly it should be stressed that accessing the internet from a mobile device is not without risk. Follow this advice to protect data accessed via your mobile.
Set security protocols to the highest level and use PIN codes to lock SIMS, keypads and voicemail, particularly when your mobile device contains personal data.
Take care when charging your mobile on someone else's computer or a charge point – many chargers are combined with data connection so you could have your data stolen without knowing.
Avoid downloading apps from non-official sites - they can be used to install malware.
Be watchful for others looking at your screen.
Users should be aware that photos taken from many phones have embedded location information.
Never respond to spam messages received via SMS or bluetooth, even to text 'STOP.'
Don't scan a Quick Response (QR) code that looks as if it may have been interfered with or stuck over with a replacement, or is not from a trusted source – it can leave your phone open to a security attack.
---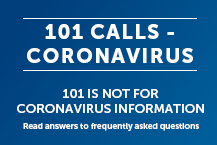 101 calls are not for Coronavirus information, read our FAQs to help you understand how we are policing the new restrictions.