Social Media Hub
You can keep up to date with all the latest news, campaigns, traffic and weather warnings and much more by following Police Scotland through our social media channels. Click the links above to access our main accounts.
Many of our specialist divisions, departments and command areas also have their own social media channels, so you can check out what's happening in your own locality. See the links below for more.
Specialist and Local Facebook Channels
Police Scotland Youth Volunteers
Local Twitter Feeds
---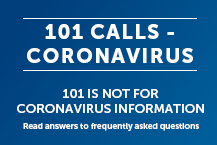 101 calls are not for Coronavirus information, read our FAQs to help you understand how we are policing the new restrictions.